Community
We look to support the communities we are involved in, recognising that targeted funding can make a big difference to community projects. We encourage our team to come up with ideas we can support, and the company are committed to match any funds the team raises.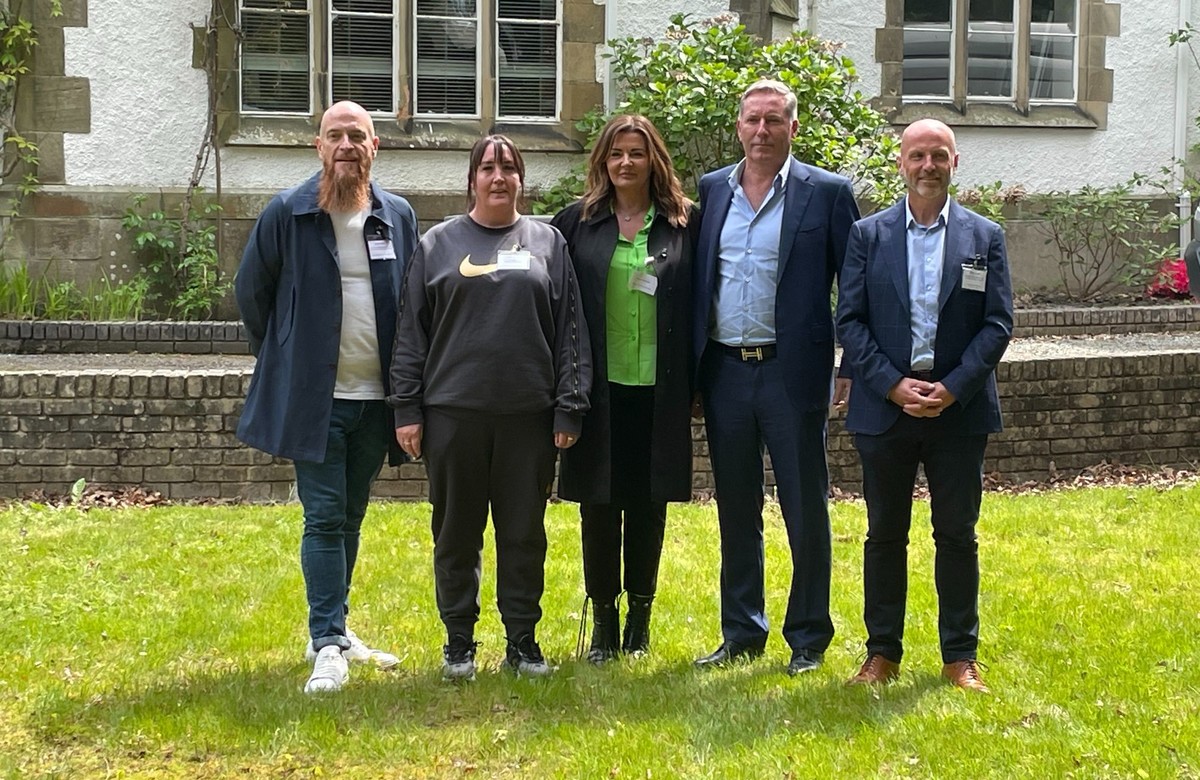 Tŷ Hillgrove, Bangor
Ground cutting ceremony to celebrate start of recovery centre build
The local community has come together to mark the beginning of a £3 million project to develop former Hillgrove School, Bangor into a new home for North Wales Recovery Communities (NWRC).
Thanks to the support of Watkin Property Ventures, NWRC purchased the former school last year. Having secured planning permission, work has now started on site to adapt the building into a much-needed new home for NWRC residents.
Mark Watkin Jones, Chief Executive and owner of Watkin Property Ventures cut the first sod to signal the beginning of construction. He said: "The occasion is a significant milestone for NWRC, and I am pleased that we have been able to support this project which promises to bring positive changes to the lives of many in the area. NWRC have been doing fantastic work for many years, the new centre will help them support more people and provide them with the modern facilities they deserve."
James Deakin, founder of NWRC, added: "We are Incredibly grateful for the support we have received from Mark and Susan at Watkin Property Ventures – it means we can develop a sustainable hub which will meet the long-term needs of our therapeutic community.
"The event this week was also a fantastic opportunity for us to meet our neighbours, local businesses, residents, and other agencies to showcase the support we provide people on their recovery journey. Being a part of and offering service to our wider local community is integral to what we do and an event like this enables us to raise awareness about our work here in Bangor and further afield."
NWRC was set up in 2014 by James Deakin, frustrated with the lack of recovery support available for people exiting drug and alcohol treatment services. Since then, the organisation has been delivering a programme of rehabilitation and providing abstinent accommodation from Penrhyn House in Bangor.
North Wales business, Techbuild has been appointed as the main contractor on the project. Work has started on site and is expected to be complete by the end of 2023 with residents moving into Hillgrove shortly after.
City centre initiative, Bwyd Da Bangor provided the catering at the launch. With local produce at the heart of their offer – this was an opportunity for the team there to showcase their talents. As well as working with NWRC residents, Bwyd Da means NWRC can support other marginalised groups within the wider community.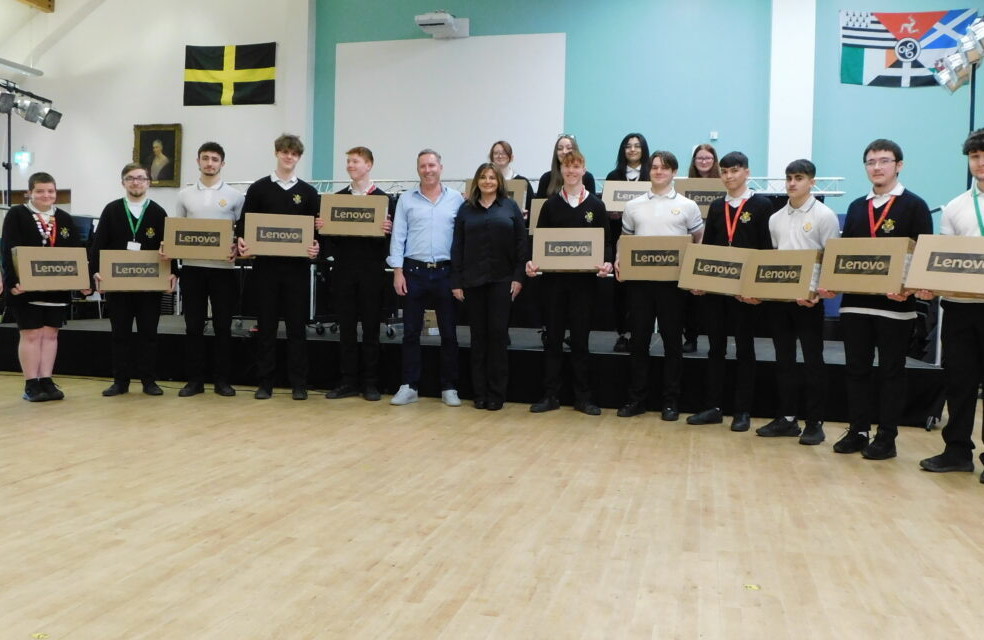 Ysgol Friars, Bangor - Laptops for 6th Form Pupils
The company have donated laptops to A Level students of Ysgol Friars, Bangor to ensure that all students have access to the necessary resources to succeed in their studies. This recent donation is part of Mark and Susan's ongoing support of Ysgol Friars which includes a range of initiatives aimed at improving the welfare and educational experience of the school's students.
Neil Foden, Headteacher expressed his gratitude for their continued support to the school and the students. "As former students they both know the school and the community and understand the effects of Covid-19 and rising prices have had on young people and their families. It is fantastic that, having enjoyed successful business careers, both are now committed to giving back to the school and supporting our pupils."
Susan Ashworth said: "We're pleased that we can support pupils at Ysgol Friars in this way. Having adequate access to IT equipment is crucial for students to thrive. We are confident that the new computers will go some of the way to helping the students achieve their full potential."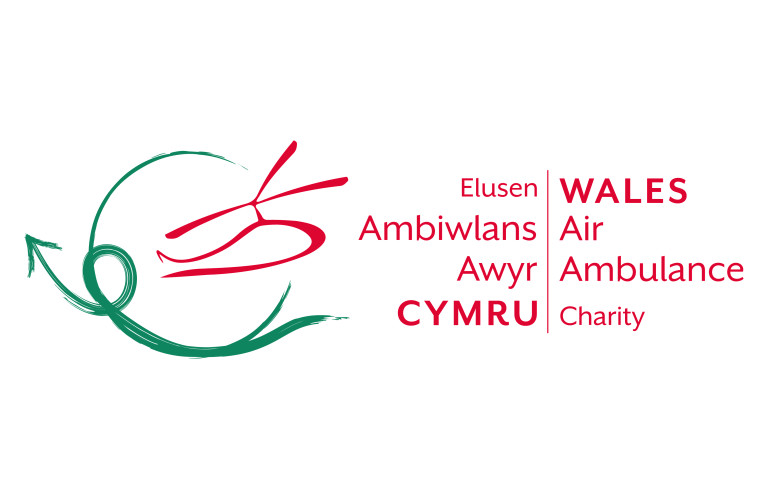 WALES AIR AMBULANCE – STAFF CHARITY OF THE YEAR – 2022/2023
Each year our staff choose a local charity to raise funds for and the charity chosen for 2022/2023 is the Wales Air Ambulance. They deliver lifesaving, advanced medical care to people across Wales and rely entirely on charitable donations.
The team at WPV are looking forward to raising funds and having some fun in doing so!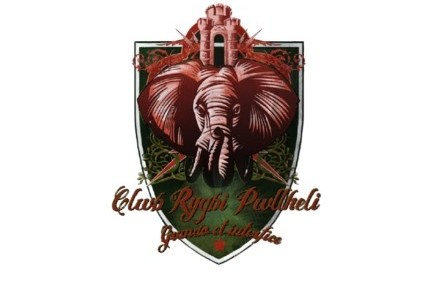 PWLLHELI RUGBY CLUB – 2022/2023 SEASON
We are delighted to continue our sponsorship with Pwllheli Ruby Club again this year. The Club was established in 1972 and this year they are celebrating their fiftieth anniversary; they run no fewer than sixteen teams. There has been substantial progress over the years and there has been a focus on improving their facilities and their infrastructure has been targeted on supporters and particularly their disabled supporters, which our donation will help towards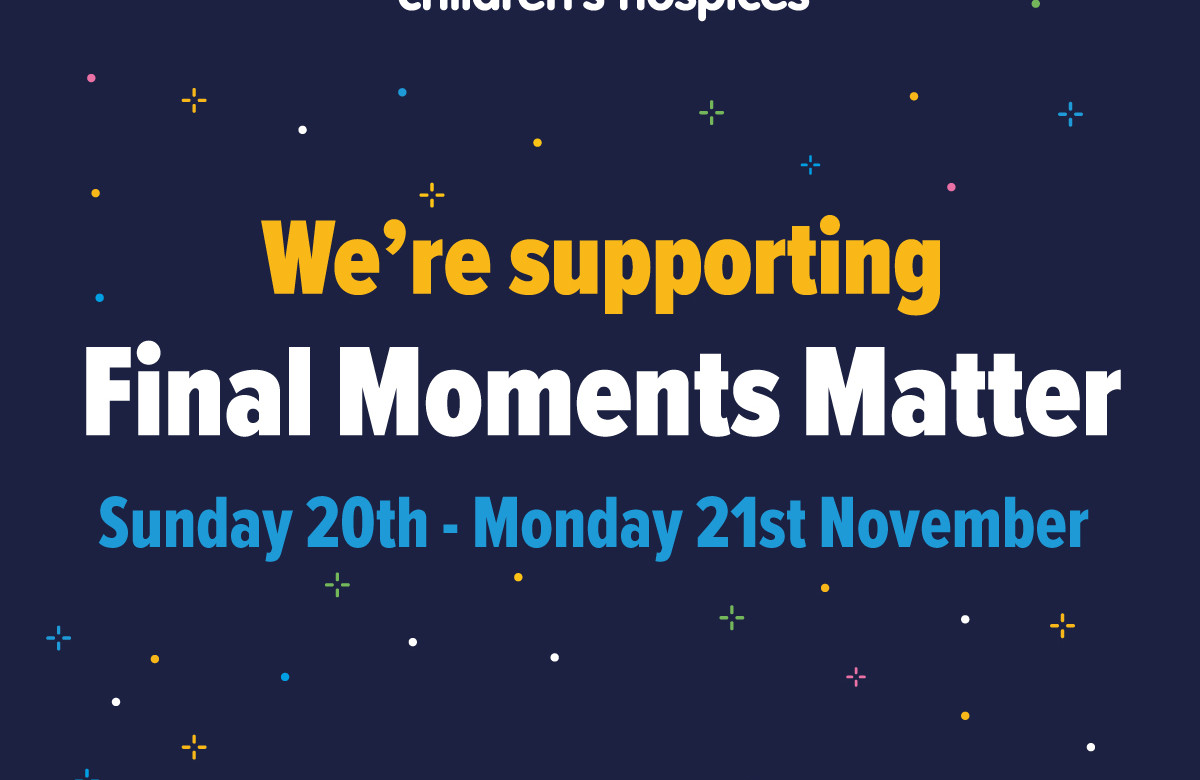 Hope House/Ty Gobaith
Final Moments Matter - 2022

Once again, WPV were pleased to be part of the Final Moments Matter campaign. Hope House were asking communities to come together to raise £500,000 – the annual cost of providing the best end of life care for every child and family in our region who turn to Hope House and Tŷ Gobaith for support.
Watkin Property Ventures are one of the supporters who pledged £20,000 and the charity raised an incredible total of £563,431.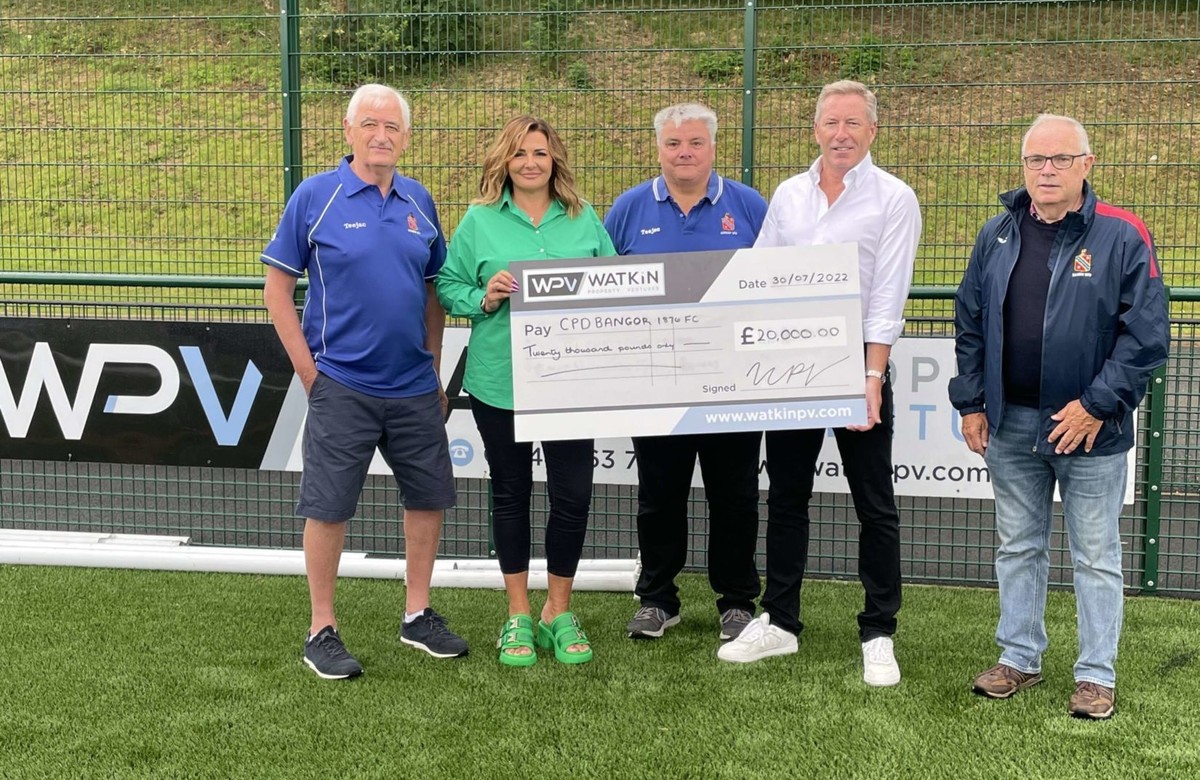 CPD BANGOR 1876 FC - 2022 to 2025 SEASONS
CPD Bangor 1876 FC was formed in 2019, with a view to actively engaging with and involving the whole community, and we are delighted to continue our sponsorship for a further 3 seasons. We have pledged £20,000 over three years and again the funds will go towards essential running costs, however, in addition we will also become front-of-shirt sponsors for the next three years.
Part of the money will also be used specifically to support the community ethos of the club in order to continue to provide opportunities for young people from all backgrounds to get involved in football. Furthermore, we are also keen to work with the Club on projects that aim to boost awareness of mental health.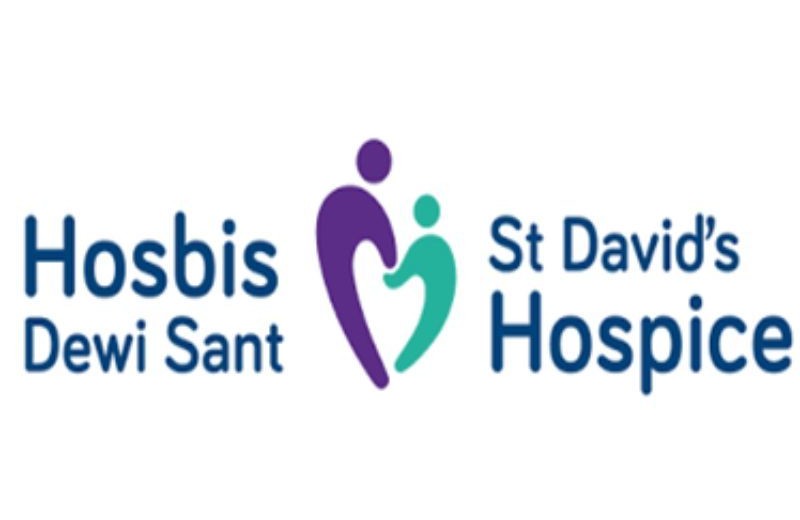 St David's Hospice - Staff Charity Of The Year - 2021/2022
Each year our staff choose a local charity to raise funds for and the charity chosen for 2021/2022 is St David's Hospice.
St David's Hospice is a local charity providing hospice care to adult patients across Conwy, Gwynedd and Anglesey. They deliver free, high-quality, specialist palliative care to patients with life limiting illnesses, their family and carers.
Over the course of the year, we ran a number of office events and challenges to raise money. These included various sweepstakes, seasonal events such as a Halloween pumpkin carving competition and Christmas jumper week, and a month long steps challenge during which our team walked a combined total of over 4500 miles. A total of £1,960.24 was raised for St David's Hospice, which included cash raised by staff and match funding by WPV.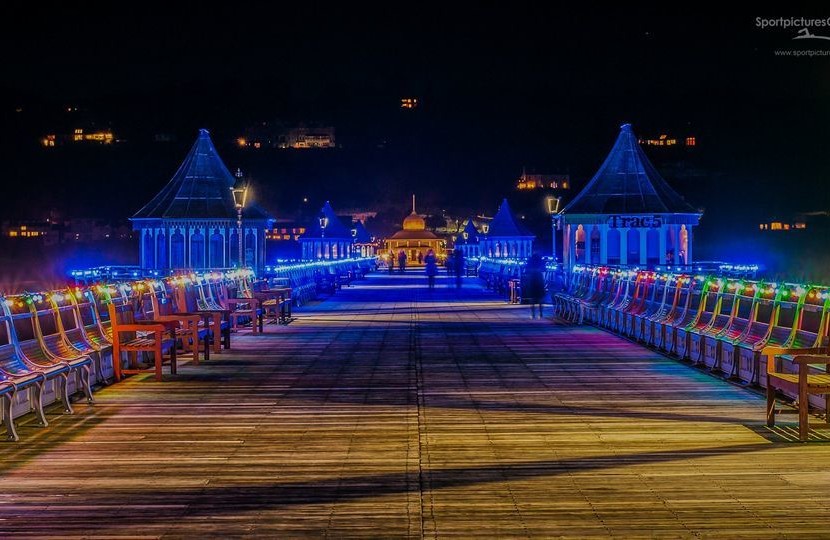 Awyr Las - The North Wales NHS Charity
We are delighted to be the headline sponsor for Awyr Las/Blue Sky "Light Up Christmas 2021". Through Light Up Christmas, local communities are invited to remember, thank and celebrate loved ones and those they are grateful to by dedicating a light to them. This light will shine bright on Bangor Pier throughout December 2021. Light Up Christmas involves a special lights installation on Bangor Pier and a projection display that will travel to acute and community hospitals as well as other healthcare settings in North Wales.
Awyr Las is the umbrella charity for over 400 charitable funds which together support every ward, unit, department, speciality and community project right across the area of North Wales which is served by the Betsi Cadwaladr University Health Board.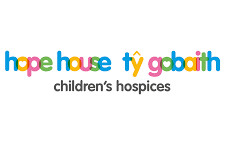 Hope House/Ty Gobaith
Final Moments Matter - 2021
Watkin Property Ventures were pleased to be part of the Final Moments Matter campaign. Hope House were asking communities to come together to raise £500,000 – the annual cost of providing the best end of life care for every child and family in our region who turn to Hope House for support.
WPV are one of the supporters who pledged £20,000. We would like to congratulate Hope House on achieving over 100% of their goal for the Final Moments Matter campaign. Hope House raising a staggering £564,420 in the 36 hours of the campaign in November 2021 and donations continue to rise.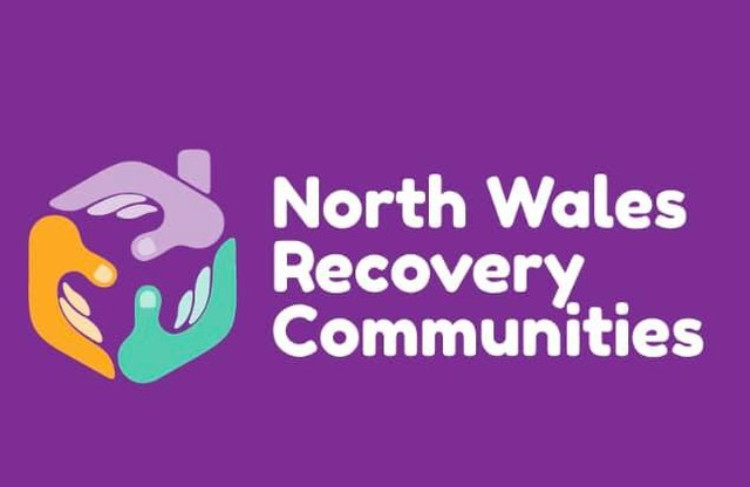 North Wales Recovery Communities
We are pleased to support North Wales Recovery Communities based at Penrhyn House, Bangor.

NWRC were founded in 2014 and run rehabilitation programmes for people with addictions to drugs and alcohol, they also provide a range of abstinent accommodation from both Penrhyn House and dispersed across Bangor.
They provide a safe space for participants in early recovery whilst they establish themselves in the local recovery community, provide information on the consequences of substance use disorder and encourage and support participants to build their own recoveries through involvement with Mutual aid groups and other recovery-compatible activities.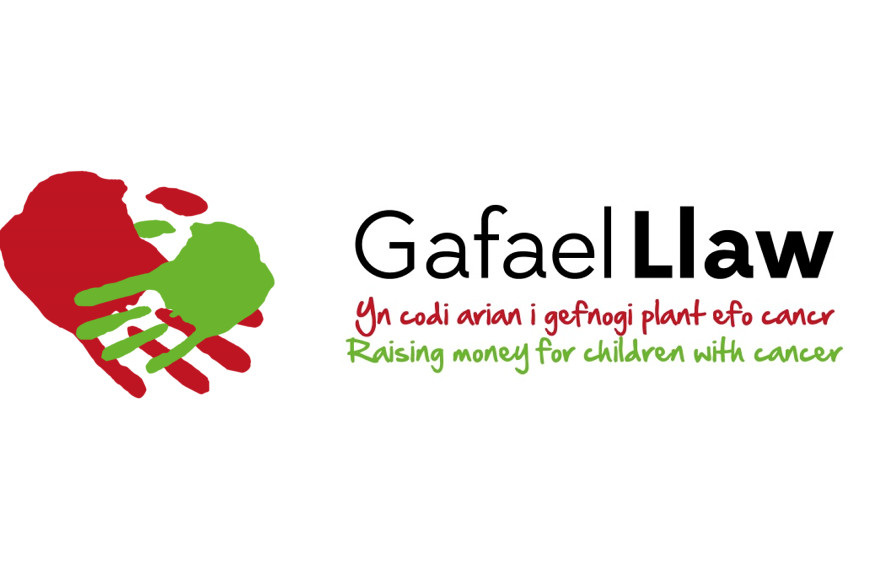 Gafael Llaw - Staff Charity Of The Year - 2019/2020
Each year our staff choose a local charity to raise funds for and the charity chosen for 2019/2020 is Gafael Llaw.
Gafael Llaw was established in 2013 to support children and young people from the Gwynedd and Anglesey area suffering from cancer. All the money raised by Gafael Llaw goes directly towards improving the facilities and services for children with cancer.
The Charity provides direct support for Dewi Ward in Ysbyty Gwynedd, with significant contributions already made to upgrade cubicles on the ward, as well as general facilities such as the outside play area and assessment rooms.
There is also commitment from the Charity to support Alder Hey in Liverpool. Two new cubicles in the new Alder Hey hospital will be sponsored by Gafael Llaw, meaning that high quality facilities and services will be available for those children from the Gwynedd and Anglesey area staying in the new hospital. Every effort will be made by the Charity to ensure that local children can access services and materials in the Welsh language.
During 2020, we ran a number of virtual events and challenges throughout lockdown to raise money for Gafael Llaw. These included taking part in Movember, virtual Bingo and sweepstakes for the Tokyo Olympics, 6 Nations Rugby, 2021 Euros and I'm a Celebrity Get Me Out of Here. The staff also took part in a competitive steps challenge, where they split into 2 teams, both attempting to cover the miles it would take to walk each property in our portfolio throughout the UK. Both teams exceeded expectations and managed to walk enough steps to get to France and back.
A total of £1,176.00 was raised for Gafael Llaw, which included cash raised by staff and match funding by WPV.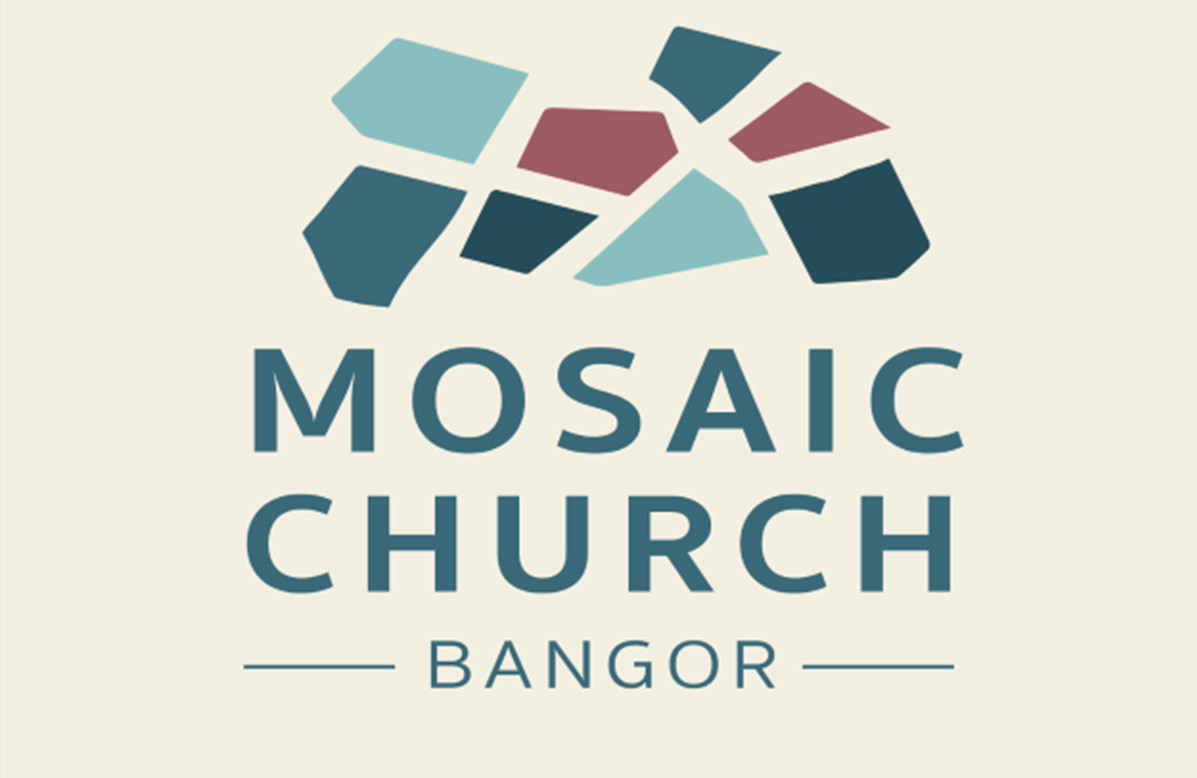 Mosaic Church - Food Bank
We are pleased to continue supporting the Mosaic Food Bank with our regular monthly donation. The food bank is based at the Coed Mawr Community Centre in Bangor and serves the area of Bangor & surrounding villages. Foodbanks were around long before the pandemic but they have found a large increase since Covid-19 and they are handing out between 200-250 parcels a month.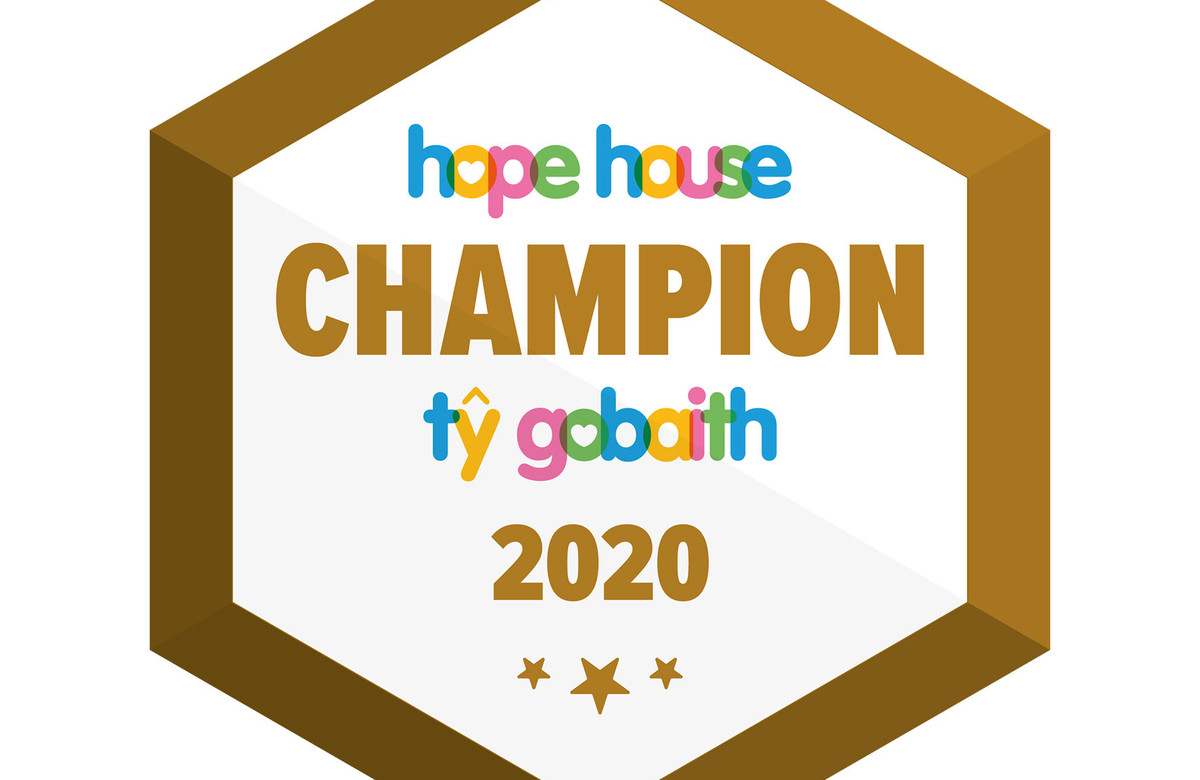 Hope House/Ty Gobaith
WPV are delighted to become one of the first Hope House/Ty Gobaith Champions! – a group of incredible organisations who believe in their vision that no one should face the death of their child alone.
Having lost £1.25 million in income, Hope House is facing additional costs, including increased PPE for nurses and families, to ensure that the hospices are COVID-safe to continue to provide end of life and critical care to children.
"We need 12 FFP masks and 12 gowns in any one 24-hour period for every child being cared for. This equates to £78 per day for each child. These extra costs, combined with the loss of income, are putting a huge strain on us.
"We are contacting local companies and asking them to help us by donating £780 to cover the cost of PPE for 10 days for one child. This support will ensure that the families we care for continue to receive the bespoke care they deserve this Christmas time.
Our donation of £7,800 will cover the cost of PPE for 10 children for 10 days.
We are so pleased that we can assist this worthwhile cause.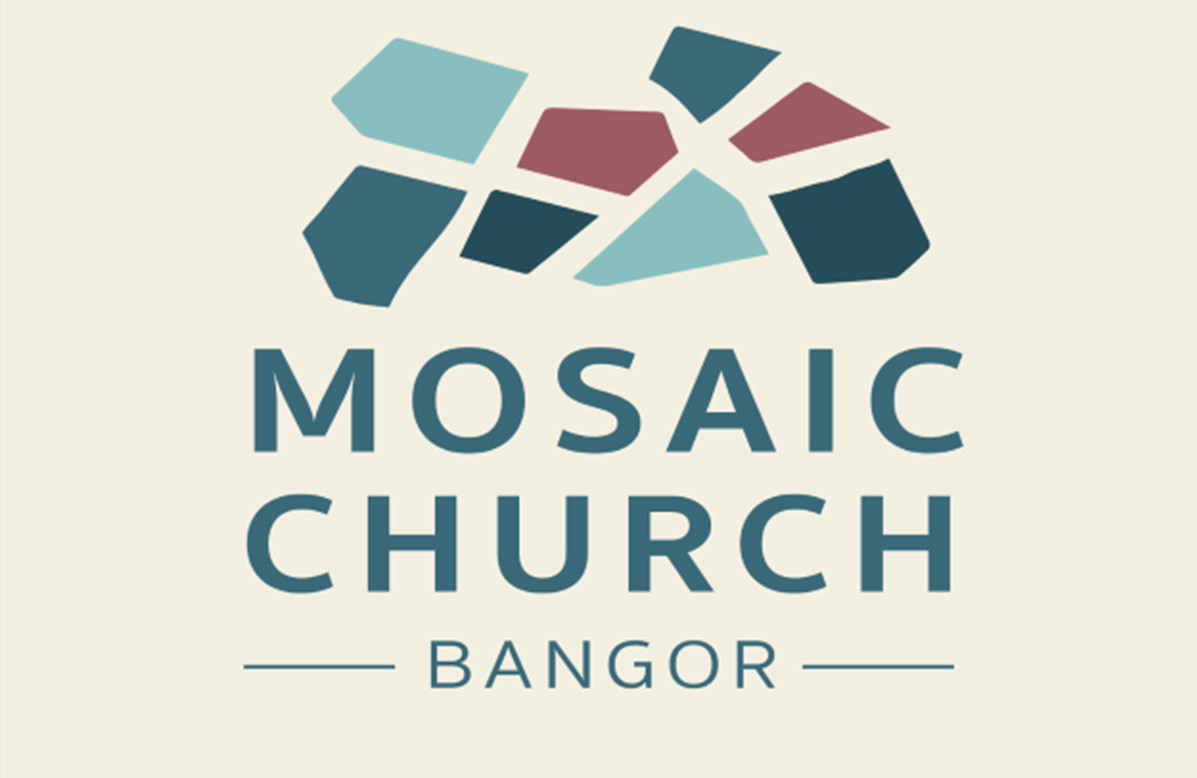 Mosaic Church, Bangor - Home Alone on Christmas Day
For over 20 years the Hope Church have provided food and gifts to people who are alone on Christmas day. Sadly, due to Covid-19 they won't be able to congregate together in 2020. Our support means that up to fifty people will be given hampers containing Christmas dinner, Boxing day dinner and lovely goodies.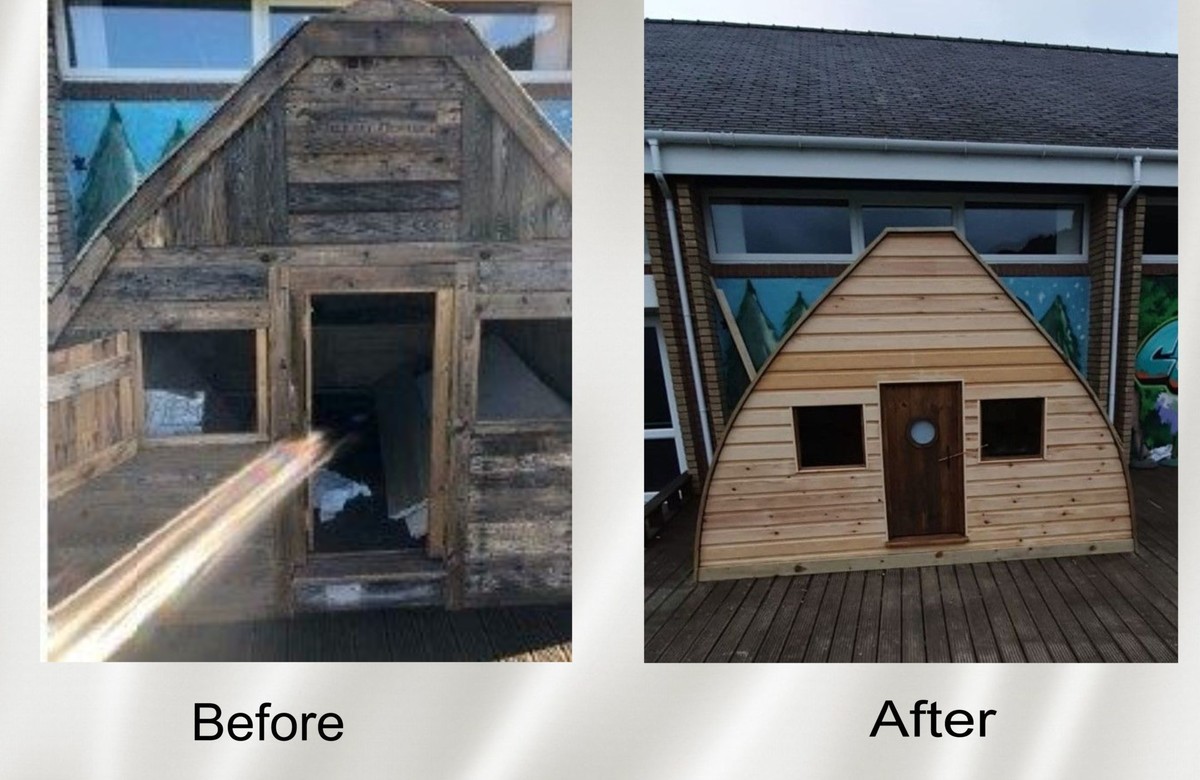 Coed Mawr Community Centre, Bangor - Hobbit House
Recently, it came to our attention that Coed Mawr Community Centre in Bangor were in the process of building a hobbit house for the benefit of the local children.
Watkin Property Ventures stepped in to complete the un-finished project and a local contractor was procured to complete the project. Hopefully the children will benefit greatly from this project.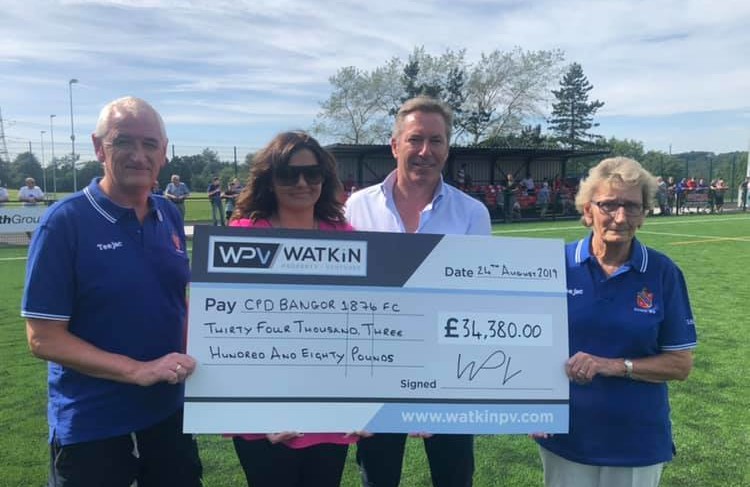 CPD Bangor 1876 FC - 2019 TO 2021 SEASONS
CPD Bangor 1876 FC was formed in 2019, with a view to actively engaging with and involving the whole community. We have pledged to provide more than £34,000 over three years, to support this newly formed football club. The funds will go towards expenses including rent, insurance, management costs, affiliations for league and cup competitions, and equipment. The three-year commitment gives the club a firm financial foundation on which to build. Supporting back-of-house activities leaves opportunities for the club to gather support from match day and player sponsorships, and other branding opportunities such as training kits.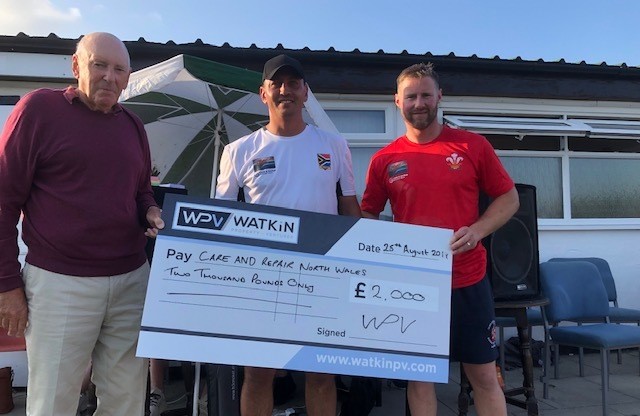 Care & Repair North Wales
Care & Repair helps older people in Wales live independently in their own homes. It provides practical help to create safe, warm and accessible homes, ranging from advice and recommendations for reliable professionals to carry out work, to delivering major modifications. We pledged £2,000 to support this cause.